A unique house warming present that will last for generations
Our quality wind chimes are designed to enhance the timeless beauty and charm of music created by the wind.
As a small family business, we proudly use our skills in fine metal work, wood work and design to produce wind chimes of the foremost quality.
When hung from a tree or nearby verandah, every time a gentle breeze passes by, the new home owners will be reminded of your kindness. They are truly a unique house warming or new home gift that will keep on giving. With a little TLC, your gift will last for generations.
Our engraving service leaves a dark burnt effect in the inscription as shown on the wind sails in these photos. Please note this darkness may fade back to natural wood over time depending on exposure to weather, however the depth of engraving will remain permanent and readable.
Once engraved we give the wind sail a fresh coat of oil before posting, leaving a lovely natural fragrance when you open the box.
How to order.
Browse the designs on these pages for inspiration
Browse and listen to our wind chimes (all of our chimes can be engraved)
Once you've chosen your chime and colour, select 'Design your own' option from the drop down list.
Enter instructions if needed - we always send you a design first if we are in any doubt.
Select gift wrapping if required and enter gift tag message
Click on 'Add to cart'
Our engraving charge allows for one side of the wind sail, or one pipe to be engraved.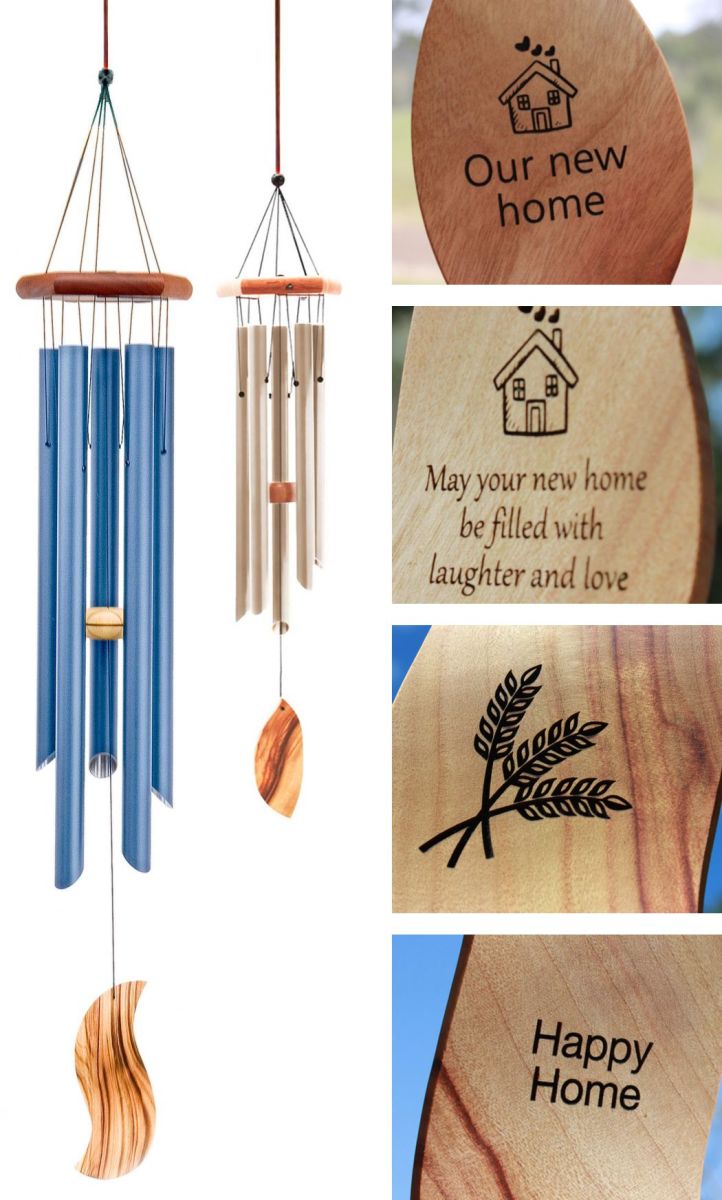 Choosing a wind chime as a gift
We have designed an interactive listening experience to help you choose from the range of Windsong Chimes. The first step is to listen to the various tunings to determine the pitch and melody that suits the new home and your friend or loved one's temperament.
Take a look at our page on wind chimes and their moods.