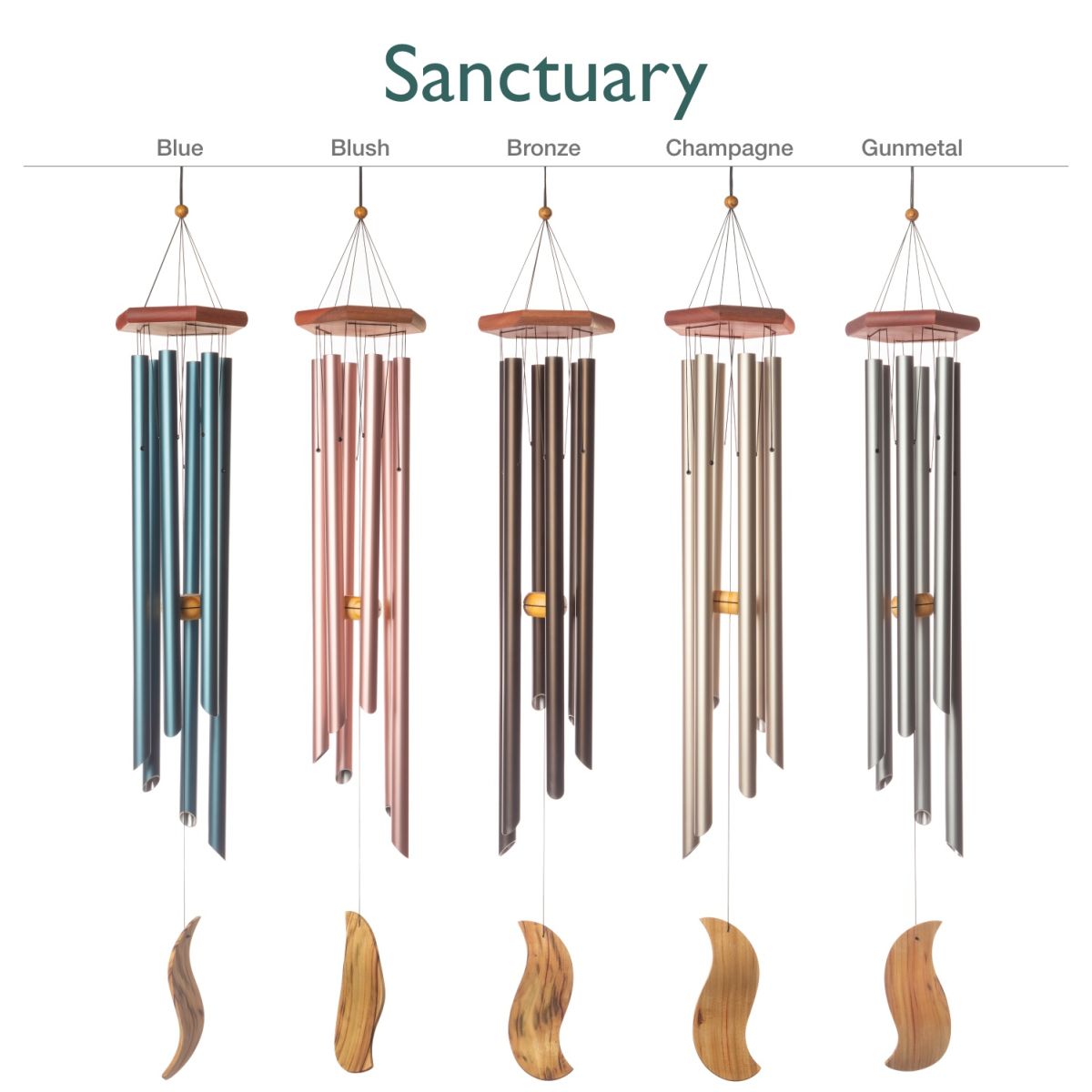 Clarifying, peaceful and entrancing, the Sanctuary Sound Healing Cleansing Meditation by Christopher Lloyd Clarke is a "sound bath" experience that features our very own Sanctuary Wind Chime, alongside Tibetan singing bowls, bells and other customised healing instruments.
Composer's commentary: This is a minimalistic sonic journey of great purity. It is abstract, spacious and soothing, and will leave you feeling calm and renewed.
If you have never enjoyed a sound bath or a sound healing before, then music like this may be unfamiliar to you. If that's the case, then welcome to a new sonic experience!
The purpose of a sound bath is to engage your senses in a conscious listening process that brings your awareness into the present moment and soothes your nervous system. Sounds are chosen that help to slow down a busy mind and interrupt negative thinking patterns, replacing all that inner noise with something very clear, beautiful and still - a calm state of mindful presence that is inherently healing.
I have called this sound bath a "Cleansing Meditation" as its purpose is to invoke feelings of clarity, purification and rejuvenation. To achieve that I focussed on creating sounds that symbolise those feelings. You'll hear crisp, clear wind chimes, glittering bar chimes, sonorous signing bowls, shimmering metallic tones and lustrous pads.
The many sounds I used in this Cleansing Meditation are also interspersed with brief periods of silence. These help to encourage present mindedness and self awareness, and they also help you to connect more deeply with the sounds that follow.
The hero of this sound bath is the Sanctuary Wind Chime which takes many forms in this recording. Its crisp, clear tones are the first thing you'll hear. In addition to the natural sound of the Sanctuary chime, you'll also hear it in some interesting modified forms that I created using various sound design techniques. For example, at times you will hear high, glittering chimes that were created by modifying the pitch and tuning of the Sanctuary chimes, and at other times you'll hear the effect of "granular processing" which changes the sound of the chime into a surreal, elongated sound that floats in the background. This surreal sound may not be recognisable to you as a wind chime at all, but it adds a magical atmosphere to this sound healing experience.
I recommend listening to this sound healing with headphones, at a very quiet volume, with your eyes closed. As the sounds begin, take a few deeps breaths to ease your body and mind into the experience. You can either listen while lying down for a period of rest and rejuvenation, or sitting up straight for a more formal meditation experience. In either case, do your best to "listen consciously". By this I mean, keep your attention on the sounds, and if your mind wanders off, simply return your awareness to the sounds. In this way, the sounds play the role of a mantra for you, helping to free you from excessive thinking so that your nervous system can become more still, resulting in a deeper state of calmness and clarity for your mind and body.
Meet the composer
Here's a photo of Christopher recording in his studio with our Sanctuary wind chime.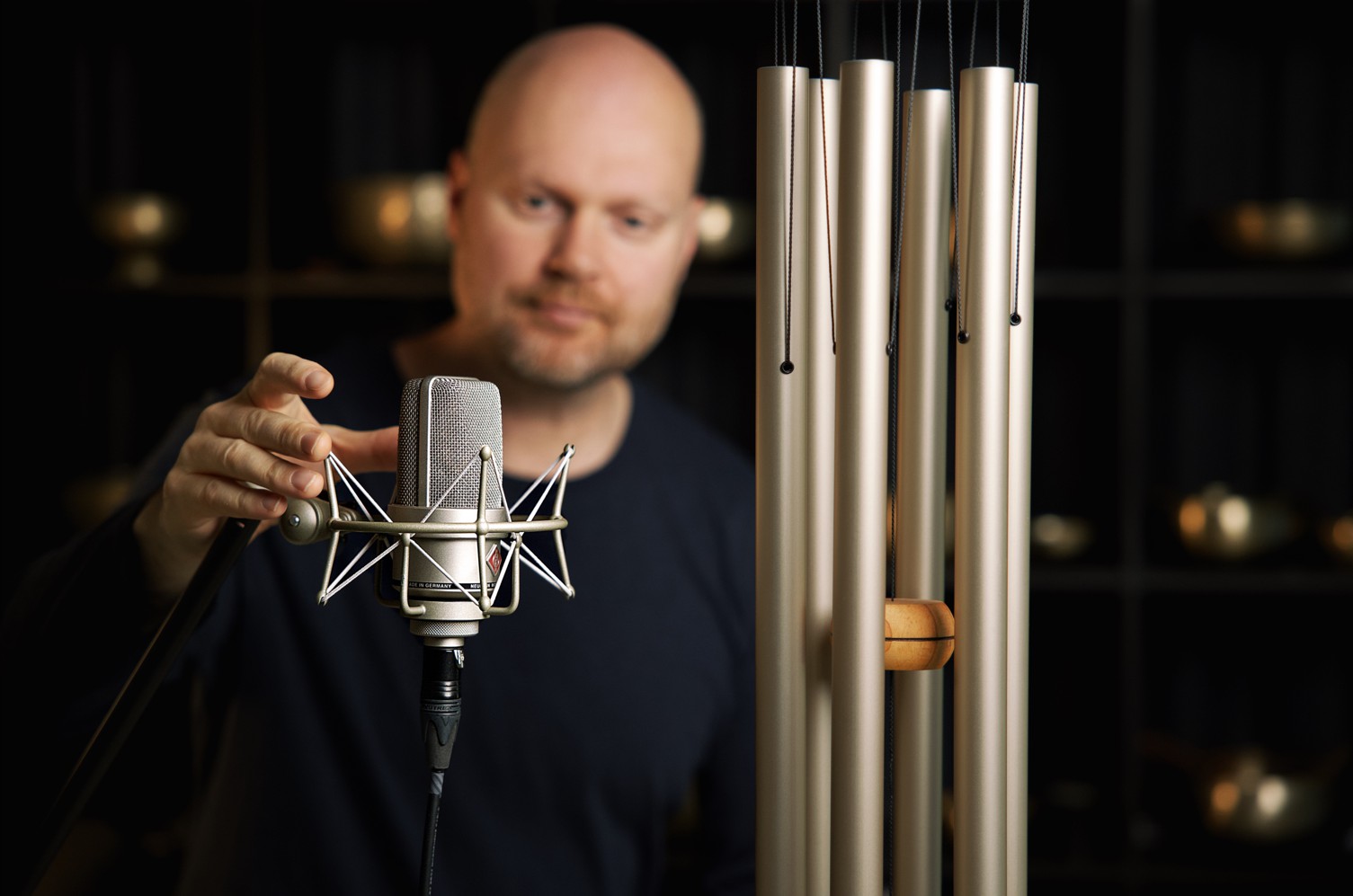 From his studio in Apollo Bay on the southern coast of Victoria, Christopher creates beautiful, meditative music that helps people relax, heal and find stillness in everyday life. Christopher's music has been used by tens of thousands of professional meditation teachers, holistic healers, wellness centres, and mental health professionals. You'll come across his music in the background of countless guided meditation and hypnosis recordings, and also in some of the most popular apps for relaxation and meditation.